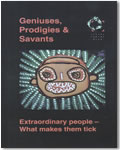 The Centre for the Mind is extremely proud to present Geniuses, Prodigies & Savants. This publication forms a permanent collection of the fascinating research unveiled at our December 1999 conference of the same name.

The authors included in this collection consist of world-renowned academics in this area, alongside the art works and insights of geniuses, prodigies and savants and their families.

The publication includes not only transcripts of the conference proceedings, but also reproductions of the research by the Centre for the Mind which initially inspired the event, as well as photos and artworks from the occasion.

It is our wish that this book's interdisciplinary and multifaceted approach will lead to further research and insights into this important and relevant area of research - an area which is integral to the Centre's directive - what makes us human?

To access a PDF of the book, please click here.